<< Return to Travel Articles Index
Nairobi's Carnivore Restaurant voted among the World's 50 best restaurants.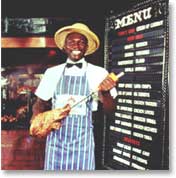 Often described as Africa's greatest eating experience, this legendary open-air meat specialty restaurant has become a standard stop on the safari trail with strikingly different food, service and atmosphere to anything ever seen in Kenya. Every type of meat imaginable, including four choices of wild game, are roasted on traditional Maasai swords over a huge, visually spectacular charcoal pit that dominates the entrance of the restaurant. The waiters then carry these swords around the restaurant, carving unlimited amounts of the prime meats onto sizzling, cast iron plates in front of you. A wide selection of salads, vegetable side dishes, and a variety of exotic sauces accompany the meat feast. Dessert and coffee follow this. The full meal including a soup course is a set price.
The Carnivore is also the home of the Simba Saloon, Nairobi's most popular nightclub and disco. The informal outdoor atmosphere, exceptional snacks and outstanding entertainment ensure a vibrant and exciting night out. The Outdoor concert venue adjacent to the Simba Saloon is able to hold up to 20,000 people for a concert and 10,000 for special events. Established with fanfare and glitter ready for the mega Millennium bash on New Years Eve 1999/2000, the concert gardens launched with a breathtaking fireworks display and concert performed by Chaka Demus and Pliers. Since then the Carnivore Gardens have played host to many great entertainers such as Shaggy, Rita Marley, Gregory Isaacs and Brenda Fassi.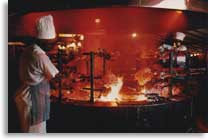 The famous Carnivore Dawa cocktail, a stimulating concoction guaranteed to raise anyone's spirits, was introduced to Kenya at the Carnivore. In Swahili, "Dawa" translates somewhere between medicine and magic potion. Under the African sun the "Dawa" is the drink chosen to rehydrate, refresh ones being and sharpen the taste buds. Dawa consists of 2 tots Vodka, 1 table spoon sugar, lime cut into quarters and Crushed ice. The lime and sugar are thrown together into a whisky glass, slightly crushed and topped with Ice and Vodka.
The Food:
Whole joints of meat - legs of lamb and pork, haunches of venison, rumps of beef, sirloins, racks of lamb, spare ribs, sausages, chicken wings, skewered kidneys, even crocodile, and other tasty morsels are constantly basted and turned until perfectly cooked, the meat is succulent and well flavoured.
Carnivore Menu
Starters
Salads and side dishes
(mixed salad, rice salad, kidney beans, corn relish, coleslaw, cucumber raita)
All with Homemade vegetable vinaigrette
Soup of the day with homemade fresh brown bread
Sauces
(garlic fruit salsa, Sweet and sour, masala, mint, chilli)
Selection of charcoal roasted meats which include:
Leg of beef
Haunch of venison:
(Zebra, Wildebeest, Buffalo, Oryx, Kongoni, Impala, Thompson Gazelle, Ostrich, Giraffe)
Leg of pork
Leg of Lamb
Pork spare ribs
Crocodile (- when available)
Chicken tikka
Chicken yakitori
Chicken wings
Chicken livers and gizzards
Pork sausages
Beef sausages
Choice of desserts
(apple pie, cheese cake, strawberries and ice-creams)
Kenya coffee
IMPORTANT NOTICE: Whatever you decide, be sure to order Tusker - the original safari beer of Kenya,
possibly the best beer you'll ever have and a complement to any meal. at the Carnivore..
Kids:
The Simba Saloon at Carnivore provides the ideal informal eating out experience for the whole family. Incorporating the children's playground constructions in the form of swings, slides, seesaws and maypoles it is always a popular venue for children's birthday parwith the major emphasis on the kids entertainment. With an excellent children's menu, plus outdoor ice cream parlour and popcorn dispenser, kids can have a wonderful time at the fun-land atmosphere during the weekends when there are often acrobats, jugglers, face painters and camel rides to add to the existing entertainment.