Day 01: Depart USA
Board your for flight for Kenya & depart from USA.

Day 02: Nairobi
Upon arrival in Nairobi meet our representative at the airport and transfer to the Norfolk Hotel for your overnight.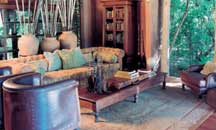 Day 03, 04 & 05: Masai Mara
Fly out to the Masai Mara early in the morning and check in at the luxurious Bateleur Camp, an exquisite nine-tent camp set in a forest with the Oloololo Escarpment as it's backdrop. The camp provides an authentic aura of romantic colonial safaris. Meals are offered in the privacy of your tent balcony overlooking the Mara plains, in the Main lounge area or in the middle of the African bush! Each tent is appointed a personal butler to ensure your comfort. Daily game drives through the Masai Mara allow you to be amongst Africa's big game such as Rhino, Lion, Leopard, Elephant, Cheetah, Giraffe, Buffalo, Crocodile, Hippo and many, many more. End your game drive with a sundowner near the spot where the Motion picture Out Of Africa was filmed. Interpretive game walks with armed rangers provide a closer experience of the African wilderness. The Masai Mara Game reserve has recorded over 400 species of birds.

Day 06 & 07: Lake Manyara National Park
Depart for Nairobi by air to connect with your flight out to Lake Manyara National Park via Arusha, picnic lunch enroute. Arrive & check in at the Lake Manyara Tree Lodge. A Game drive in an open Landrover offers incredible bird & wildlife watching.

Day 08 & 09: Ngorongoro Crater Conservancy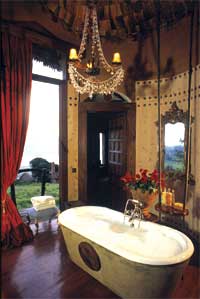 A scenic road transfer brings you to Ngorongoro Crater Lodge for check in & lunch. Inspired in design by the Maasai manyatta, each room reminds of a bygone era when characters such as Lord Delamere adorned the stilted, handcrafted structures with graceful antiques, grand chandeliers & treasures collected from travels through Africa. Safari activities include full and half day tours of the Crater giving you the chance to experience the magnificent scenery & wildlife.

Day 10 & 11: Serengeti Game Reserve
Depart for the airstrip and fly out to the Serengeti Game Reserve. Transfer to Klien's Camp set in some 10000 hectares of private land in the North-Eastern region of the Serengeti. Accommodation is in tastefully built local rock & thatch cottages, offering a balcony with sweeping views of the Grumeti River Valley. Day & Night game drives and interpretive nature walks led by an armed naturalist allow you to fully explore the African wilderness.

Day 12 & 13: Grumeti Private Game Reserve
Transfer to a quiet seclusion of idyllic Grumeti River Valley, located on the Western corridor of the Serengeti. The Grumeti River Camp, your safari base, overlooks the Grumeti river home to Hippo & Crocodile. Accommodation is in cream canvas tents luxuriously furnished with African scultptures. Game drives with expert guides take you into the savannah woodlands to explore the regions prolific wildlife.

Day 14: Nairobi - USA
Check out & transfer to Nairobi by air. Lunch at the Carnivore Game Meat restaurant makes for a perfect end to a fascinating trip. Day use rooms are available at the Norfolk Hotel for you to pack & freshen up. Transfer to the airport for your flight back to the USA.



Kichwa Tembo Bateleur Camp, Kenya