ZANZIBAR
About Beach Holidays in Zanzibar
Zanzibar Island Guide | Zanzibar Map | Beach Hotels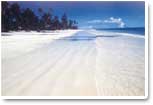 For centuries the historic spice island of Zanzibar has evoked mystical & magical dreams. In the legendary stone town of Zanzibar, an East African island whose very name evokes Africa's exotic past.

Beach hotels in Zanzibar:
- Hotel in Zanzibar Stone Town
- Beach Resort in Zanzibar
- Exclusive Mnemba island, Zanzibar


3 night Beach Flying Safari to Breezes Beach Club
The place to discover Zanzibar is at Breezes Beach Club. All the rooms are spacious and beautifully decorated in relaxed elegance. with air-conditioning, en suite bathrooms, a refrigerator and personal safe box. Accommodation is offered on halfboard meal plan. The hotel features a fitness centre, several bars & lounges and a disco. Several watersports are available from the hotel's Marine & watersport's centre. Tours to Zanzibar's Stone Town can also be arranged at the hotel.

Zanzibar Serena Inn [Stone Town] 3 Night Flying Package

Zanzibar Serena Inn's ambience is elegant and romantic. All rooms overlook the azure waters of the Indian Ocean. This stunning property is set in two historic seafront buildings that have been masterfully restored. Extensive recreation and waterports are available to guests. Visits to Stone Town's historical landmarks and excursions to neighboring islands and wildlife reserves are made daily, at an extra charge. Native Swahili influenced entertainment is offered in the evenings.

Exclusive Mnemba Island, Zanzibar
Click here to visit Mnemba Island's Main Page.