About business travel in Africa: Over the past years, the African travel industry has introduced several facilities to cater toward the business travel market. With the provision of modern business centers complete with computers, telecommunication, internet access and secretarial services, the hotels thrive on efficiency. Special corporate offers & complimentary services for business travelers booked in executive suites, add to your convenience & an overall pleasant travel experience. The Africa Safaris Business Travel guide has been set up to globally represent the African business travel sector by providing information & advice on planning your trip, and recommending and booking the Top rated hotels and conference venues. Africa Safaris will also negotiate the best available deals around the industry for you & provide safari & touring ideas for short-stay business travelers or those on a busy schedule. For enquiries please contact us at: corporate@tulipweb.com or click here to contact us online
Getting started on your researching on your business travel to Africa:
1. Read up and get to know as much as possible on the area you are visiting. The Africa Market Online is good place to buy products such as books to start your research. Click here for information and prices for books on Business in Africa.
2. African Business hours are generally between 0830hrs - 1700hrs on average during weekdays and 0830hrs to 1200hrs on Saturdays. Banks are usually open between 0900hrs and 1500hrs Monday through Friday and between 0900hrs & 1100hrs on Saturdays. Majority of the businesses and shops remain closed on Sundays. Banks located at the International airports are generally open 24 hours a day.
3. In the central business region, business related services are almost always around the corner with several cybercafes & business centres well spread out over major cities. Smaller towns still developing in the business sector are fast catching up however, quality of internet access & telecommunication is still not as advanced or easily available as it is in the United States Of America. Internet access is almost non existant in over 50% of the regions in Africa, and you may have to depend on solely telephone communication. With the fast development of the major Cellular network providers over the recent years, most major African towns are now covered. Cell phones can be bought for under USD100, inclusive of connection & talk time, which can be reloaded with "scratch cards" or "top-ups" available for different amounts.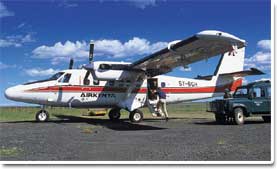 4. Choose your mode of transportation carefullly. It is not advisable to use public transportation such as buses and minivans in Africa. Have your African Business Associates or Travel Agent pre-organize all of your transportation. If your transport timings will be unpredictable, your hotel conceirge or the airport desk can call in a reputable taxi for you. Most major hotels also offer Hotel Shuttle services between airports and city centres which can be booked in advance or upon arrival. Travel between cities should either be conducted through registered car hire companies or tour operators, or by air whenever possible. The major African carriers such as South African Airways, Kenya Airways, Air Kenya, Air Botswana, Air Seychelles, Air Namibia and Air Zimbabwe provide an excellent network & frequency between the major business cities. Railways are not used much for commute in Africa, they are mainly just for cargo and sightseeing purposes.
5. Always choose hotels of 4 star category or higher during your stay anywhere in Africa, this will be well-worth your comfort.
6. Wherever you are in the world - whether it's New York, London or Jo'burg, practising good safety habits will assure you a hassle free trip. When you are traveling as a tourist, you are almost always away from the high-crime city centers, however on a business trip, the city centers being the main business district become your main focus. For this reason business travelers are strongly adviced to always consult a travel agent when planning their arrangements. When you are outside the hotels refrain from openly carrying your briefcase or purse around in public, if the distance is too great, always take a cab from the hotel rather than walking in the central town area. Major towns in Africa such as Nairobi, Mombasa and Johannesburg have large security issues and it is best to avoid walking on the streets especially if you are carrying bags or briefcases. Do not walk at night. Keep the vehicle locked at all times and do not roll the windows down if you are wearing expensive jewelery or talking on a mobile phone. Keep your travel documents locked up in the hotel safe carrying only an id card and passport photocopy if you think you'll need it. Keep your money & credit cards in separate places from your purse, wear a waist bag. Victoria [Mahe] being a tiny town is considerably safer than any African city, and Botswana has a pleasant reputation for being the most peaceful country in Africa, however please be sure to practice simple safety measures to avoid complications during your trip.
7. When packing, choose easy to carry luggage & pack light, especially if you are going to be moving around between cities. While in Africa, dress codes are generally smart casual to the least. Business conferences & important meetings are usually a formal affair and the dress code is generally: Long sleeve shirts & trousers [tie optional] for men and smart casual for women. Depending upon the weather and how you feel comfortable you may wear a coat. Formal banquets however call for more conservative dressing suits for men and evening wear for ladies, be sure to pack accordingly. For after work non-formal meetings, casual wear is acceptable. Seychelles however, tends to be very different and smart casual wear is acceptable in most instances.
8. As African winters continue to get colder every year, it would be advisable to carry some warm clothes and a jacket. Regardless of the weather you should also be prepared for chilly evenings & sometimes the unpredictable rain.
9. African business culture: Rarely do you find a African Business Executive dressed in the "Sneakers and Jeans attire" ,and almost all of the Top executives in the industry play golf. Most will be a part of or contributors to some kind of non-profit organization. Most popular examples are The Rotary International & Lions International Groups. If you do already happen to be a part of either organizations do carry your club exchange banners - and wear your pin! It will be a great chance for you to meet & socialize with the local members. Kenyan tea is among the best in the world, and it is no wonder they love tea so much and make sure it's present in most meetings or conferences. Though National language's vary by country, English is widely spoken by everyone in the business sector. Africa is very vibrant and very multicultural. The continent is composed of African, Asian, Middle-Eastern, Mediterenean and European nationals. The phrase 'No hurry in Africa' is not just fictionary, the pace of business [and almost everything else] is relatively slow especially along the Coast, where its not unusual for smaller shops to remain closed in the afternoons during the peak of summer. It is also not uncommon for meetings to begin late, traffic being the main reason for people arriving late. Often people print the time of the meeting or event between 15-30 minutes earlier than the actual time the function will begin, to ensure people make in time.
10. Foreign Exchange Bureaus can be found at the international airports, most top hotels and shopping malls. ATMs are conveniently located at most malls and ouside the banks. It is however safest to use those within the malls whenever possible & avoid use of ATMs along the road especially at night. Banks are also well spread out around most cities. Top International banks include Barclays, Standard Chartered, Bank of Baroda, Habib Bank, Habib Bank Zurich, Stanbik, Commercial Bank of Africa.
11. Make sure you have travel insurance prior to your departure for Africa. This is absolutely necessary, don't leave home without it.
12. Media: International newspapers as well as local English newspapers are available. There are several local TV news stations. International Television stations are received via satellite [most commonly by DSTV].