Africa is the perfect destination for your next family vacation - if the sights, sounds and smells of Africa thrill even an Adult's jaded senses, imagine their effect on the impressionable minds of children…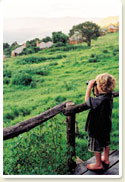 There are a lot of entertainment & educational programs available for your children. Some lodges even have kids clubs, which can organize daily activities for your kids such game trekking, environmental education programs, treasure hunts and interview sessions with the local tribe's in a traditional village. However, please note that during game drives it must be ensured that children are quiet as even the slightest noise could scare away the animals. It is therefore requested that if you are traveling with very young children you do not share a game drive vehicle with other guests as this may adversely affect their experience and enjoyment. You can rent an exclusive vehicle for your family or arrange to be part of a family tour on a number of our safaris. Also, please note that some game viewing lodges [such as the Ark in Kenya and a number of up market lodges] do not allow children under the age of 7 years due to the noise factor, except on specially designated children's nights. Please consult us first for full details when planning a trip with your children on any of our featured safaris and we would be delighted to help you plan & put together your dream safari with the kids.
Here is our Top 4 safari list of Family-friendly safaris which are favorites with the kids:
1. Best of Kenya Safari :::: Click here to view safari
[age limit 7 and above only; except on special designated dates, please inquire for details]
Safari Description:
An exciting safari covering the scenic towns and reserves of Central Kenya and the Masai Mara Game Reserve.

Safari Highlights:
Petting a tame Black Rhino, Boat ride [weather-permitting] & visit to chimpanzee sanctuary, William Holden orphanage, Human Maze adventure, cultural visit to a Maasai Village, a chance for the kids to stay in an authentic African zip-door tented camp and the ultimate jungle tree house that has Elephant in it's front yard, Golfing activities for parent[s].
2. Discover Tanzania Safari :::: Click here to view safari
[no age limit]
Safari Description:
Focuses on the wildlife and cultures of Tanzania.
Safari Highlights:
Fun accommodation options in modern & luxurious versions of "African huts", dancing with the local Maasai tribesmen and local community interaction with cultural visits to a Maasai Village, Full day crater tour with a picnic lunch, visit to Ol Duvai Gorge prehistoric site [for the Jurassic Park enthusiast to learn how it all began]
3. Seychelles :::: Click here to view safari
[no age limit]
Safari Description: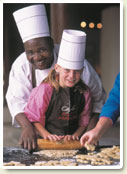 Beach Holiday
Safari Highlights:
The Seychelles are a sure treat if a family beach holiday is what you seek. Hotels are child-friendly and the beaches are fantastic. Birdlife is prolific and a visit to the Vallee De Mai forest is a must to learn it's fascinating story! Giant tortoises and the famed Seychelles island hospitality make for wonderful memories and relaxing break.
4. Palace of the Lost City, Sun City Complex :::: Click here to view safari
[no age limit]
Safari Description:
A fantasy fairy-tale world of Africa's jungles, cliff-tumbling gardens, streams, waterfalls, swimming pools and al fresco entertainment areas.
Safari Highlights:
Lots of free-form swimming pools and fun-filled activities for parents and children. This destination, exciting as it is, falls as our number 4 choice because the African forests in the complex are not natural but man-made [like a Disney creation] and therefore it doesn't actually qualify as a "true safari destination", however, with it's vast array of programs and activity line-up's it does promise plenty of fun, adventure and excitement! For game viewing, a visit to the nearby Pilanesburg Game Park can be pre-arranged.