Fishing safaris in South Africa:

With nearly 3000 km of shorelin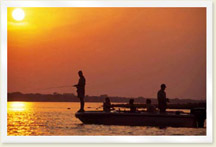 e and abundant inland fishing opportunities in many parts of the country, South Africa is a fisherman's paradise. This pastime is more than simply catching fish - it is an experience of being in close contact with nature, surrounded by prolific bird and animal life and some of the most beautiful scenery in the world. Most fishing in South Africa is permitted year round, although trout fishing is prohibited during the months of June, July, and August. Highlights of the angling year include the sardine run in June along the KwaZulu-Natal coast, where hordes of feeding game fish and sharks can be seen. In summer, the tune and King Mackerel abound, while the autumn and winter brings huge runs of snoek. The Natal parks board supports a tag and release program in conjunction with keen fishermen, so those who enjoy the sport and have an interest in conservation, are able to join the tagging program. There are close to a million fishing enthusiasts in South Africa, which means that quality fishing gear is readily available. The staging of regular tournaments has been well-developed throughout the region and the infrastructure for angling is excellent with accommodation, charter boats and specialist guides available at most venues.


Fishing safaris at Lake Victoria, Kenya [East Africa]:

A very popular add-on excursion for guests staying at the Masai Mara Game reserve.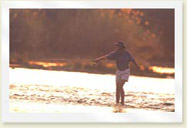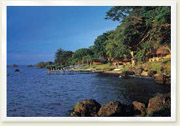 The lovely Lake Victoria is the setting for a holiday that's about as far away from it all as you can possibly get. It's the world's second largest freshwater lake and is the magical source of the Nile. A century ago European explorers risked their lives to claim this prize for their Empires. It was famed as the pearl of Africa.The Lake is rich in fish and birdlife, it's islands lush and verdant. The chance to catch the giant Nile perch draws many. Some come for the abundant birds, fish eagles, kingfishers and pelicans, others to glimpse the playful otters. A place to soothe the mind, to treat yourself to fish caught fresh that day, to fruit and vegetables from the lakeside gardens. Each morning fleets of brightly-painted fishing boats glide past, each evening their lights shimmer across the water. Day trips are possible from the Masai Mara Game Reserve using a light aircraft on a 40 minute flight, but we
recommend staying for at least two nights, if only for the spectacular sunsets, the sky aflame as the sun sinks beneath the Lake.